Established 1988 30 Years



A flexible and versatile communications and collaboration solution, specially designed for small and medium businesses
The MiVoice Office 400 opens the full performance spectrum of modern business communications, meeting professional communications requirements by being highly responsive to innovations and new ways of working. The solution is designed for the small and medium segments, offering strong UCC, contact center and mobility functionality, as well as a broad phone portfolio, all completely integrated with the call manager.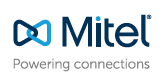 Support for Mitel's broad phone portfolio (SIP, digital, analogue)

Softphones with video, presence and chat

Mobility solutions (DECT, SIP-DECT, Mobile Client)

Audio, web and video conferencing

CTI clients with presence and UC

Operators (phone-based, PC-based with side phone, PC-based with VoIP)
Services (directory integration, building automation, click-to-call and more)

Vertical solutions for: Hotel and tourism: Mitel 400 Hospitality Package and Healthcare: Alarming, billing, notification and nurse call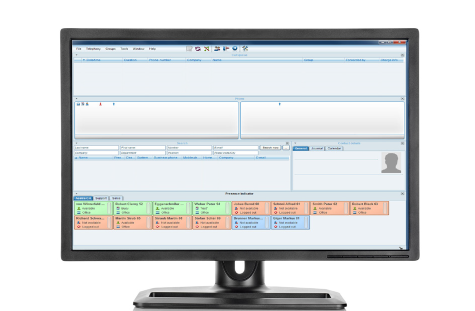 MIVOICE 1560/1560 IP PC OPERATOR
Taking, making or forwarding calls is simple with the MiVoice 1560 operator console. A softphone is already integrated into the MiVoice 1560 IP version.
The MiVoice 1560 variant is deployed together with a Mitel 6900/6800 SIP phone or 600 DECT phone. On the PC monitor, the user can see at a glance who is calling, who is internally busy or absent or who has enabled the forwarding function on their phone. Incoming calls can be transferred with a simple drag and drop. The excellent overview of the simultaneous calls allows to change for one line to another very easily.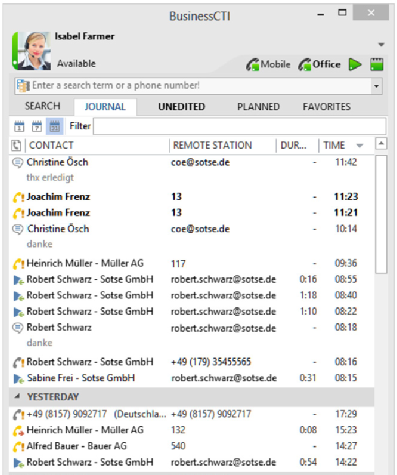 MITEL BUSINESS-CTI
Integrated applications are continuing to grow in importance "below the interface". A smart combination of Mitel BusinessCTI with mail servers, any existing CRM (customer relationship management) or ERP (enterprise resource planning) systems plus any other databases, through the Mitel Communication systems, brings together all the business applications that are capable of communicating. This significantly increases employee efficiency.
Mitel BusinessCTI offers CTI, Presence Management and Instant Messaging, together with functions to improve collaboration within the enterprise and beyond its boundaries (federation).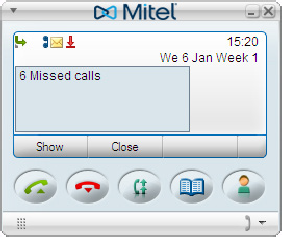 MIVOICE 2380 SOFTPHONE
MiVoice 2380 offers full convenience, providing telephone functions on a PC. Operation is via mouse and keyboard inputs. To make and receive calls, all that is required is a headset (USB, cordless, Bluetooth) connected to the PC. All the important functions, such as call log and phone book, are available at the click of the mouse. The Softphone offers all logical and possible options during a call, such as conference, forwarding and enquiry call.
Mitel MiCollab Audio,
Web and Video Conferencing
Share information and collaborate with co-workers, partners,
and customers, regardless of device or location MiCollab unifies business-critical applications into a single, integrated solution that promotes
user agility and collaboration, simplifies and streamlines administration, and can be deployed
as hardware on a single server or in a virtualized environment.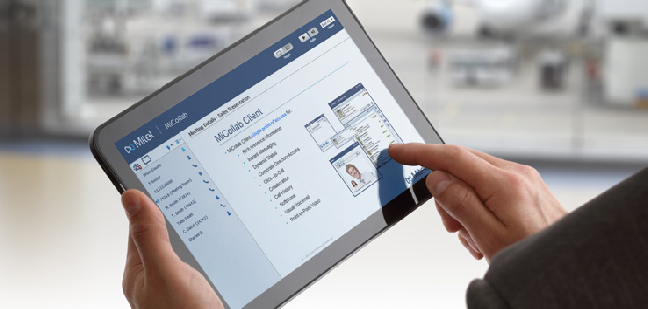 Key Features
• Scheduled and Ad-hoc Conferences
• Participant Management
• Desktop and Application Sharing
• Multi-point Video Conferencing
• Private and Public Chat
• Remote Control
• Web-based Collaboration Viewer
• File Transfer
• Document Management
• Polling
• Conference Recording
• Custom Access Codes